Nestled in northern India, Chandigarh is a lively city known for its education and culture. Among its many educational opportunities, it's a hotspot for IELTS preparation.
As people aim for success in the International English Language Testing System (IELTS), they turn to Chandigarh's coaching institutes. These institutes are dedicated to helping students excel in the test's reading, writing, speaking, and listening sections. They provide study materials, practice tests, and personal guidance.
In this write-up, we'll explore the Top 13 IELTS Coaching Institutes in Chandigarh for 2024. From teaching styles to success rates and student reviews, this list aims to help aspiring test-takers find the best place to prepare in Chandigarh's bustling educational scene.
IELTS Coaching Fees in Chandigarh
Below, you'll find the IELTS coaching fee structure for some popular institutes in Chandigarh, India:
| Institute | Coaching Fees* |
| --- | --- |
| British IELTS | Rs. 12,000 – Rs. 22,000 |
| Dolphin Head Hunters | Rs. 9000 |
| Masterprep IELTS Institute | Rs. 3000 to Rs 5500 (online course) |
| Touchstone | Rs. 14,900 – Rs. 21,500 |
| Grey Matters | Rs. 12,700 – Rs. 25,700 |
*IELTS coaching fees in Chandigarh are subject to change by respective institutions
Chandigarh's Top 13 IELTS Coaching Institutes
Here's the list of the thirteen IELTS coaching institutes we've determined to be the best ones near you in Chandigarh:
British IELTS – rated 4.3 out of 5
Dolphin Head Hunters – rated 4.6 out of 5
British Counsel – rated 4.2 out of 5
New Cambridge College – rated 4.7 out of 5
Masterprep IELTS Institute – rated 4.5 out of 5
EduCove – rated 4.9 out of 5
RISE IELTS & PTE Institute – rated 4.6 out of 5
International IELTS Centre – rated 4.8 out of 5
Touchstone – rated 4.4 out of 5
Grey Matters – rated 4.4 out of 5
1. British IELTS
BEST KNOWN FOR
IELTS Coaching, PTE Coaching, SAT Coaching
WEBSITE
https://britishielts.in/
TELEPHONE
081978 81978
EMAIL
info@britishielts.in
ADDRESS
SCO 54-55 First Floor, near Mukat Hospital, Sector 34A, Chandigarh, 160022
OPENING TIMES
Mon-Sat: 7am-8pm
Sun: 10am-4pm
British IELTS Training Centre is one of the most popular IELTS Coaching Centers in Chandigarh, with knowledgeable and experienced trainers. The institute has continuously produced excellent outcomes by providing a student-centred curriculum that is specifically tailored to the aspirant's strengths and shortcomings.
For the past seven years, British IELTS has been a pioneer in instructing over 15000 pupils. The institute is centrally positioned in Chandigarh. Its mission is to give the best teaching faculty for IELTS, PTE, spoken language, and personal development. It strives to maintain our high teaching standards in order to assist students to pass their IELTS exams on the first try, regardless of whether they choose academic or general training.
Highlights
More than 9 years of experience
Students are provided with a good range of quality material that helps them to crack their exam
Weekly mock tests for all students to assess and track their performance
Teachers attend each and every student in the class to reduce their flaws
Reviews
"In the past, I didn't get a good band on the IELTS. I self-prepared for my last IELTS appearance. However, after the results were announced, I saw that I needed a first-rate coaching facility. It was then that I learned about British IELTS. I promise that enrolling at this institute was the best choice I have ever made. This place has incredibly helpful and sympathetic staff. They go above and above to help the students. The institute has a welcoming environment for students. There aren't any industries in the area. Students can therefore focus easily. It is strongly advised that students enroll in this institution to raise their total band and gain confidence in taking the entire IELTS exam."
2. Dolphin Head Hunters
BEST KNOWN FOR
IELTS Coaching, Online classes, On-site services
WEBSITE
https://www.dolphinheadhunter.com
TELEPHONE
0172-4005567, 9780754465
EMAIL
hrdolphin786@gmail.com
ADDRESS
SCO: 85-86, 2nd Floor Sector 34-A, Chandigarh, 160022
OPENING TIMES
Mon-Sat: 8:30am-8:30pm
Sun: Closed
Dolphin Head Hunters has established itself as a noteworthy brand in the educational market. This firm was founded in 2009 and has gradually grown to provide the best IELTS coaching in Chandigarh. Over the course of more than a decade, advances made with considerable experience have aided this institute in becoming an industry pioneer.
To stay ahead of the competition, they have provided first-rate IELTS preparation in Chandigarh while achieving unrivalled outcomes in the IELTS sector since their inception. Their training programs include effective test-taking strategies and time management tips that tune the aspirants to give their best shot in the IELTS.
Highlights
Consistently winning awards for the Best IELTS Institute in Chandigarh since 2016
Follows a flexible and modernized IELTS coaching approach
Weekly mock test series along with proper feedback
State-of-the-art infrastructure with audio or video labs
Special IELTS batches for working professionals
Reviews
"There is a lot to learn here. The IELTS courses are excellent and provide an in-depth understanding of the actual test. The faculty acts with decisiveness, politeness, and assistance. Strongly advised for Chandigarh IELTS preparation."
3. British Counsel
BEST KNOWN FOR
IELTS Coaching, Spoken English, Study Visa
WEBSITE
https://britishcounsel.org.in/
TELEPHONE
0172- 5077499, 85690-85691
ADDRESS
SCO 68-69-70, Level 3, 17C, Chandigarh, 160017
OPENING TIMES
Mon-Sat: 8am-6:30pm
Sun: Closed
British Counsel is yet another Chandigarh's best IELTS institutes. It was founded in 2003 in Chandigarh, India under the auspices of the British Counsel Educational Society to promote IELTS and prepare applicants for it. with a focus on tests such as the IELTS.
Its goal is to provide professional and result-oriented preparation courses for all persons wishing to travel overseas for school, immigration, or work. Today, British Counsel is renowned as the most reliable brand in the fields of IELTS instruction, English Language Programs, and Study Visa Solutions.
In Chandigarh Tricity, the organisation operates three learning centres: Sector 17, Sector 35, and Phase 3B2 Mohali. All learning centres are managed by centre-specific teams of highly qualified working professionals. Aside from that, Mr. Rajinder Ahluwalia (Director), has an unusual record of getting an overall 9 Band Score in the IELTS exam.
Highlights
10+ years of IELTS coaching expertise
Equipped with state of the art infrastructure facilities
Best Study Material with regular updations
Disciplined environment with personalized attention to each student
Best IELTS institute award winner for 11 years in a row 2009-2019
Reviews
"British council is the top institution for IELTS coaching in Chandigarh, in my opinion."
4. New Cambridge College
BEST KNOWN FOR
IELTS Coaching, GRE and GMAT Coaching
WEBSITE
https://newcambridgecollege.com/
TELEPHONE
098782 22772
EMAIL
newcambridgecollege@gmail.com
ADDRESS
S.C.O. 80-81-82, Top Floor, 17D, Chandigarh, 160017
OPENING TIMES
Mon-Fri: 9am-8pm
Sat: 9am-7pm
Sun: 9am-5pm
RATINGS
4.7 out of 5
New Cambridge College is among the most reliable institutes for IELTS Classes in Chandigarh. Located at the prime location of sector 17 in Chandigarh, New Cambridge College is house to the most expedient and hands-down the most professional IELTS trainers. Their ultimate aim is to make the training modules comprehensible and clear for an average student.
Moreover, their state-of-the-art study material is drafted in a way to ensure that each candidate is provided with proper study notes, abundant practice tests and questions. Their special mock test series for each IELTS course is designed to make the student exceedingly familiar with the actual exam pattern.
The major highlight of this institute is that they have special IELTS coaching, GRE, GMAT, SAT, PTE, and Spoken English batches for working professionals in Chandigarh. Students who want to score 8+ bands in their IELTS exam can visit them as they have the highest success rate for IELTS in Chandigarh. The fee for IELTS coaching is Rs. 9,000 for a one-month course.
Highlights
Personal attention from experienced trainers
Daily practice assignments and special mock tests
Exclusive exam booking discount
Excellent Infrastructure
Additional Doubt Sessions
Reviews
"I started my journey for my undergraduate degree in the USA after visiting New Cambridge College to prepare for the IELTS and meet Mridul Sir. Everyone there was really helpful throughout the process, and I never had to battle with my fear of the future. My visa arrived today, and the previous few months passed without any difficulties at all. New Cambridge College is the ideal destination for you if you intend to relocate overseas for your academic career."
5. Masterprep IELTS Institute
BEST KNOWN FOR
IELTS Coaching
WEBSITE
https://www.masterprep.in/
TELEPHONE
1800 137 5499
EMAIL
info@masterprep.in
ADDRESS
SCO-7, 3rd Floor, near Satya Paul, 17E, Chandigarh, 160017
OPENING TIMES
Mon-Sat: 9:30am-8pm
Sun: Closed
Masterprep is a well-known IELTS Coaching centre in Chandigarh. The institute has a good success rate and a reputation for providing high-quality training sessions and giving immaculate scores in the IELTS exam after many years of experience in the teaching business.
The institute offers well-structured courses that are geared to meet the learning needs of candidates. A dedicated professional staff takes a rigorous approach to instilling a sense of accomplishment in the minds of IELTS aspirants. Furthermore, the institute has constantly been recognised as the top training partner in Chandigarh.
The courseware at Masterprep is specifically designed to prepare students for IELTS, TOEFL, PTE, CELPIP, and CAEL by taking them through specialised modules step by step.
Highlights
Expertise in meeting all the requirements in the context of overseas education
There are numerous free practice tests available
Techniques for dealing with stress and saving time
Study plan tailored to your talents and weaknesses
Reviews
"Given the quality of the sessions and the expertise of the trainers, Masterprep is among the best IELTS schools in Chandigarh for online instruction. Students who participate in guided sessions gain valuable insights that help them ace their tests quickly. We are grateful to a highly motivated and collaborative staff for providing the best service in the business."
6. EduCove Chandigarh
| | |
| --- | --- |
| BEST KNOWN FOR | IELTS & PTE Coaching, Spoken English |
| WEBSITE | https://www.educove.in/ |
| TELEPHONE | 098721 64499 |
| EMAIL | info@educove.in |
| ADDRESS | SCO 262, 2nd Floor, Sector 35D, Chandigarh, 160035 |
| OPENING TIMES | Mon-Sun: 6am-9pm |
EDUCOVE is one of the finest IELTS institutes in Chandigarh that gives the best Spoken English lessons in Chandigarh with an excellent of its kind, which offers extensive study hall arrangement programmes for examinations like IELTS, PTE, Spoken English, and Personality enhancement.
They are one of the greatest institutes in the entire North India Education Group, focusing on the close proximity of states such as Punjab and Haryana via Chandigarh, Patiala, and Ambala.
EDUCOVE is an IELTS institute in Chandigarh with a fragile capacity that prepares one student with an aptitude development organisation giving best organisations and planning programmes for people of various age social events – regardless of whether they are understudies or corporate specialists and according to their choice and tendencies.
Highlights
Time-tested and proven methodologies
Free Demo Classes and Out-of-Box Success Mantras to crack IELTS
Highly experienced faculty with more than 10 years of experience
Centrally located campus in Chandigarh
Reviews
"Tricity's greatest institute! Their instructional team, particularly the academics who speak, is their most valuable asset. Trainers are aware of their student's weaknesses and make a concerted effort to address them."
7. RISE IELTS & PTE Institute
| | |
| --- | --- |
| BEST KNOWN FOR | IELTS, PTE, DUOLINGO Coaching |
| WEBSITE | http://www.riseglobalacademy.in/ |
| TELEPHONE | 070871 78600 |
| EMAIL | risechandigarh@gmail.com |
| ADDRESS | House no. 1892, Nirwana Society, Sector 49 B, Chandigarh, 160047 |
| OPENING TIMES | Mon-Sun: 8am-8pm |
Rise Global is a major provider of IELTS, PTE, Personality Development, and Spoken English Coaching Classes in Chandigarh. In a short period of time, the institution has carved out a niche for itself. Coaching is offered by highly experienced experts, and the emphasis is on stimulating students' cognitive and creative development.
Expert advice and tips are provided to ensure exam success. They not only provide results-oriented achievements but also improve the learning power of the child. Students at Rise Global are trained to express themselves in an all English-speaking atmosphere in order to gain the language fluency and compete globally.
Rise Global Academy – Chandigarh Centre offers regular IELTS classes and training programmes to help you improve your score.
Highlights
Training Delivery using modern tools
Customized training as per the need of the participants
Flexible Timings, Weekdays & Weekend options
One-to-one classes to build connect
Reviews
"For normal students like myself who can benefit greatly from gaining a lot of knowledge to pass the IELTS with distinction, Rise is a true IELTS learning center and the ideal institution in Chandigarh. I would strongly advise anyone aiming for a better IELTS score to enroll in Rise lessons, which are the best in the city."
8. International IELTS Coaching Centre
BEST KNOWN FOR
IELTS Coaching, Career Counselling
WEBSITE
https://www.internationalieltscentre.com/
TELEPHONE
094171 85277
EMAIL
international.ielts13@gmail.com
ADDRESS
SCO 407-408, Second Floor, Sec-35C, Chandigarh, 160035
OPENING TIMES
Mon-Fri: 7.30am-7.00pm
Sat: 9.00am-6.00pm
Sun: Closed
International IELTS Coaching Centre is a renowned coaching centre in Chandigarh that has been consistently providing insightful guidance and round-the-clock help to students seeking to improve their English language competence and obtain their desired band score in the IELTS.
The centre has a staff of certified mentors that use innovative teaching methods and provide quality coaching to applicants. This institute's core features include unbiased counselling, integrity, and excellence, complete courses ranging from beginner to advanced level, regular feedback, and doubt-clearing sessions.
Highlights
Most comprehensive and in-depth training in the industry
Strengthen students' English and test-taking skills
Experienced trainers and counsellors
Reviews
"In Chandigarh, I took the Computer Delivered IELTS exam, and I scored an overall band of 8. I express my gratitude to IIC for offering a demanding platform for administering simulated tests, enabling me to become acquainted with the real examination structure. The instructors here are very skilled and immediately share helpful strategies and ideas for addressing issues."
9. Touchstone Chandigarh
The key selling feature of Touchstone Coaching Centre in Chandigarh is that they are the country's only institute with Cambridge University Press as a knowledge partner. Touchstone, of course, uses official Cambridge University Press IELTS preparation material and trained teachers.
Authorized professionals provide ethical and fair training based on the demands of the candidates. They are well-versed in the Multi-layered coaching system. They have kept their batches small in order to provide applicants with customised instruction in an expedient manner. As a consequence, they're a dependable coaching centre dedicated to dispersing high-quality instruction that yields outstanding results.
The fee for one-month IELTS coaching at Touchstone Chandigarh is Rs. 14,900 and that for a two-month course is Rs. 21, 500.
Highlights
The most prominent IELTS coaching centre in India
There are approximately 60 campuses in 41+ locations in India.
It also offers IELTS preparation through its online platform.
Reviews
"I spent a month studying in Chandigarh for the IELTS, and I received seven bands altogether. After that, I requested a visa, and I was granted one today, which makes me extremely happy. The personnel is incredibly helpful, and every stage of the procedure is clear and beneficial."
10. Grey Matters Chandigarh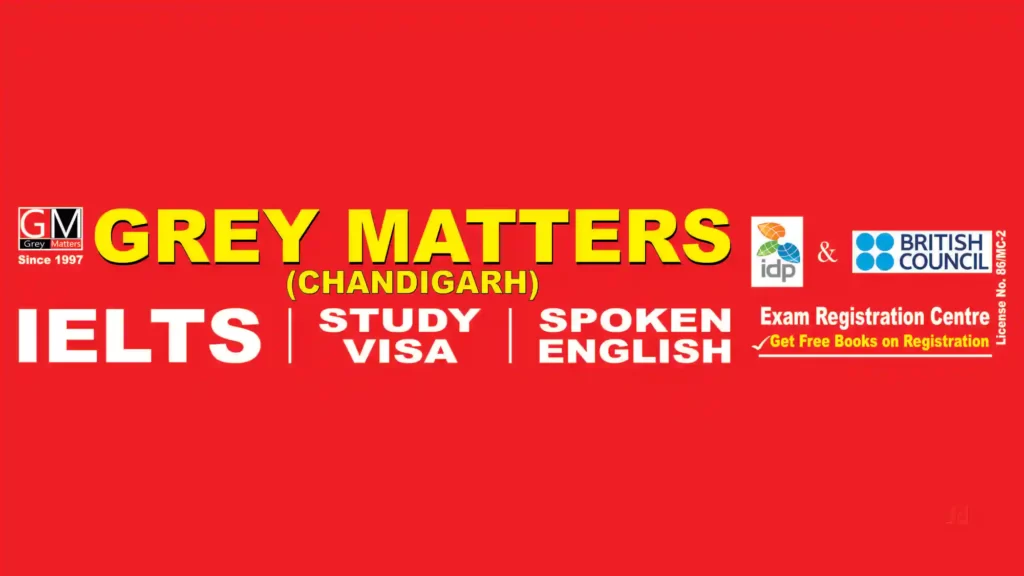 BEST KNOWN FOR
IELTS Coaching, Study Visa
WEBSITE
https://greymattersgroup.org/
TELEPHONE
0172 508 3001
EMAIL
info@greymattersgroup.org
ADDRESS
SCO: 63-64 2nd FLOOR, Sec-17C, Chandigarh, 160017
OPENING TIMES
Mon-Sat: 8:30am-6pm
Sun: Closed
Grey Matters has been recognised as one of the leading institutes in IELTS for foreign education in Chandigarh due to its unique blend of knowledge and competence, time-tested approaches, straightforward methodologies, and world-class course materials.
The coaching centre has worked hard to provide quality education while also increasing applicants' knowledge of the English language. In addition, the centre offers instruction for a variety of competitive examinations, such as PTE, TOEFL, GRE, SAT, and GMAT.
Candidates who wish to study abroad or relocate to another country for work must complete the International English Language Testing System (IELTS). Surprisingly, the competition for IELTS is intensifying by the day, with thousands of students taking the exam each session. As a result, appropriate guidance has grown in importance.
Highlights
The most reliable and technologically advanced IELTS centre
Offers free consultation.
Presence of smart, intelligent, and accomplished people on their team
Reviews
"The top IELTS training center in Chandigarh is called Grey Matters. Every employee is courteous and helpful. You have to come to this institute."
How to choose the IELTS coaching institute in Chandigarh?
Choosing the perfect coaching institute in Chandigarh is like finding the right pair of shoes – it has to fit just right! Here are stress-free pointers to help you pick the ideal spot:
Explore and Chat: Start by diving into online reviews and experiences shared by other students. It's like having a coffee chat with friends who've been there!
Meet the Maestros: Check out the faculty. Are they seasoned wizards in IELTS prep? The right teachers can make learning feel like a breeze!
Learning Vibes: Think about how you like to learn. Do you prefer interactive classes or self-paced study with cool online resources? Find the vibe that syncs with your style!
Study Tools: Peek into their treasure trove of study materials. Updated resources are like golden keys to unlocking your potential.
Class Crew Size: Big or small class sizes – what's your jam? Sometimes, a cozy group can mean more one-on-one time with the instructor.
Practice and Feedback: Mock tests are your IELTS practice battlegrounds. Make sure the institute offers these, plus helpful feedback to boost your skills!
Winning Streak: Ever checked a coach's track record? Institutes with students scoring big are like gold medalists in prep!
Location Love: Consider the commute. You don't want travel woes messing with your study groove, right?
Budget Buzz: Balance is key. Compare costs, but also weigh in on the value you're getting. Sometimes, a bit more investment can mean top-notch training!
Pop In for a Visit: If you can, swing by the shortlisted institutes. It's like test-driving a car – get a feel for the place and vibe with the teachers and students!
Remember, it's all about finding that perfect fit that clicks with your style and goals.
Frequently Asked Questions
What are the top 10 IELTS institutes in Chandigarh?
The top 10 IELTS institutes in Chandigarh are – British IELTS, Dolphin Head Hunters, British Counsel, New Cambridge College, Masterprep IELTS Institute, EduCove, RISE IELTS & PTE Institute, International IELTS Centre, Touchstone, and Grey Matters.
What is the fees of IELTS coaching in Chandigarh?
The IELTS coaching fees in Chandigarh range from Rs 9,000 to Rs 25,000 depending on the institute and the duration of the course.
How will IELTS coaching in Chandigarh benefit candidates?
In Chandigarh, IELTS coaching brings a structured prep approach with experienced teachers who give personal attention and cool strategies for each test part. With lots of practice stuff, tracking progress, and hanging out with others studying, it builds confidence and eases test worries. Plus, flexible classes and ongoing help make sure you're all set to rock the IELTS for studies or moving abroad.
Is there support available for improving vocabulary and grammar during coaching?
Yes, writing and speaking practice sessions are held by respectable IELTS centers. They assist students in improving their skills by simulating test situations and offering feedback on language use, coherence, and task achievement.
Can IELTS academies help with overcoming test anxiety?
Test anxiety is addressed by these institutes by offering techniques for stress management during the exam. To mimic exam settings, they administer mock exams and provide relaxing and focus-boosting advice.
What's the success rate of students who undergo coaching in Chandigarh?
The success rate varies between IELTS centers in Chandigarh and is mostly dependent on each student's effort and commitment. Because of their well-structured curriculum and professional coaching, reputable institutes frequently have greater success rates.
Are there additional resources or online platforms provided by these institutes?
A lot of coaching facilities in the neighbourhood provide users with access to online resources that include practice questions, videos, interactive tests, and discussion forums. These materials support instruction in the classroom.
Final Thoughts
Well, that wraps up our list of the top 13 IELTS coaching institutes in Chandigarh! Pretty exciting stuff, right?
From dedicated teachers to personalized approaches, these places are like treasure troves for IELTS success. So, whether you're dreaming of studying abroad or just upping your English game, you've got some fantastic options right in Chandigarh.
Dive in, check them out, and get ready to rock those language skills!
Are there any other IELTS academies you think should make the cut here? Or perhaps you've had the chance to learn from these course trainers? Feel free to share your experiences in the comments section!