IELTS General Test – Passage 17: Study dramatic arts at Thornley reading with answers explanation, location and pdf. This reading paragraph has been taken from our huge collection of Academic & General Training Reading practice test PDFs.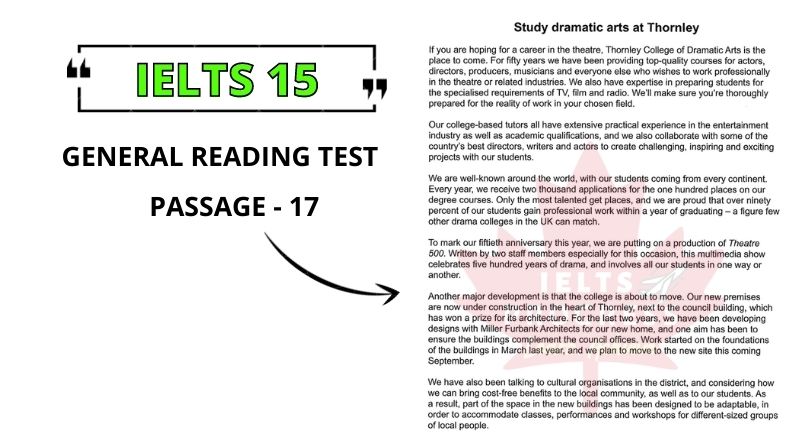 Study dramatic arts at Thornley
If you are hoping for a career in the theatre, Thornley College of Dramatic Arts is the place to come. For fifty years we have been providing top-quality courses for actors, directors, producers, musicians and everyone else who wishes to work professionally in the theatre or related industries. We also have expertise in preparing students for the specialised requirements of TV, film and radio. We'll make sure you're thoroughly prepared for the reality of work in your chosen field.
Our college-based tutors all have extensive practical experience in the entertainment industry as well as academic qualifications, and we also collaborate with some of the country's best directors, writers and actors to create challenging, inspiring and exciting projects with our students.
We are well-known around the world, with our students coming from every continent. Every year, we receive two thousand applications for the one hundred places on our degree courses. Only the most talented get places, and we are proud that over ninety percent of our students gain professional work within a year of graduating – a figure few other drama colleges in the UK can match.
To mark our fiftieth anniversary this year, we are putting on a production of Theatre 500. Written by two staff members especially for this occasion, this multimedia show celebrates five hundred years of drama, and involves all our students in one way or another.
Another major development is that the college is about to move. Our new premises are now under construction in the heart of Thornley, next to the council building, which has won a prize for its architecture. For the last two years, we have been developing designs with Miller Furbank Architects for our new home, and one aim has been to ensure the buildings complement the council offices. Work started on the foundations of the buildings in March last year, and we plan to move to the new site this coming September.
We have also been talking to cultural organisations in the district, and considering how we can bring cost-free benefits to the local community, as well as to our students. As a result, part of the space in the new buildings has been designed to be adaptable, in order to accommodate classes, performances and workshops for different-sized groups of local people.
Questions 8-14
Do the following statements agree with the information given in the text?
In boxes 8-14 on your answer sheet, write
TRUE if the statement agrees with the information
FALSE if the statement contradicts the information
NOT GIVEN if there is no information on this
8. The college has introduced new courses since it opened.
9. The college provides training for work in the film industry.
10. Students have the chance to work with relevant professionals.
11. Many more people apply to study at the college than are accepted.
12. Theatre 500 was created by students.
13. The new building and the council building were designed by the same architects.
14. Local groups will be charged for using college premises.
________________
ALSO TRY:
1) IELTS 15 READING PASSAGE – HOW ANIMALS KEEP FIT ↗
2) IELTS 15 READING PASSAGE – NEW CYCLE PATH TO MARSHBROOK COUNTRY PARK ↗
3) IELTS 15 READING PASSAGE – STARTING A NEW JOB ↗
4) IELTS 15 READING PASSAGE – HOW TO GET PROMOTED ↗
5) IELTS 15 READING PASSAGE – ANIMALS CAN TELL RIGHT FROM WRONG ↗
________________
Answers with Explanation
Check out Study dramatic arts at Thornley reading answers below with explanations and locations given in the text.
8 NOT GIVEN
9 TRUE
10 TRUE
11 TRUE
12 FALSE
13 NOT GIVEN
14   FALSE
Have any doubts??? Discuss in the comments ...
PDF
If you want the pdf summary of Study dramatic arts at Thornley reading passage and answers, please write your email in the comment section below. We'll send it across at the speed of light.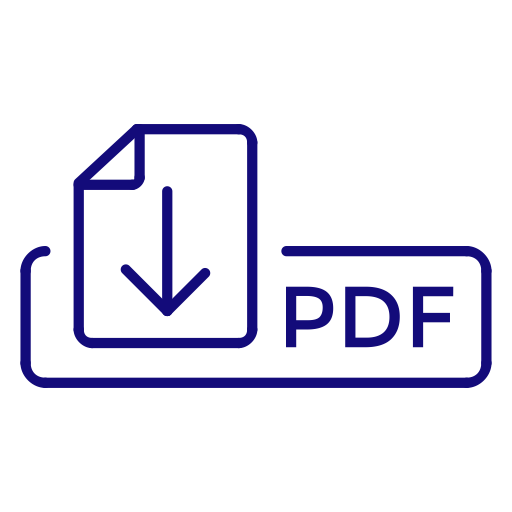 ALL THE BEST !