IELTS General Test – Passage 16: Visitor attractions in southern England reading with answers explanation, location and pdf summary. This reading paragraph has been taken from our huge collection of Academic & General Training (GT) Reading practice test PDF's.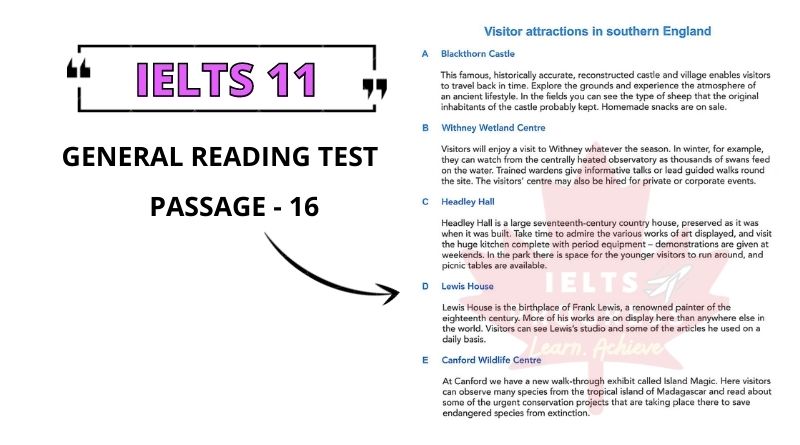 Visitor attractions in southern England
A. Blackthorn Castle
This famous, historically accurate, reconstructed castle and village enable visitors to travel back in time. Explore the grounds and experience the atmosphere of an ancient lifestyle. In the fields, you can see the type of sheep that the original inhabitants of the castle probably kept. Homemade snacks are on sale.

B. Withney Wetland Centre
Visitors will enjoy a visit to Withney whatever the season. In winter, for example, they can watch from the centrally heated observatory as thousands of swans feed on the water. Trained wardens give informative talks or lead guided walks round the site. The visitors' centre may also be hired for private or corporate events.

C. Headley Hall
Headley Hall is a large seventeenth-century country house, preserved as it was when it was built. Take time to admire the various works of art displayed, and visit the huge kitchen complete with period equipment — demonstrations are given at weekends. In the park, there is space for the younger visitors to run around, and picnic tables are available.

D. Lewis House
Lewis House is the birthplace of Frank Lewis, a renowned painter of the eighteenth century. More of his works are on display here than anywhere else in the world. Visitors can see Lewis's studio and some of the articles he used on a daily basis.

E. Canford Wildlife Centre
At Canford we have a new walk-through exhibit called Island Magic. Here visitors can observe many species from the tropical island of Madagascar and read about some of the urgent conservation projects that are taking place there to save endangered species from extinction.

F. Oakwell Museum
This is an ideal venue for families. They can visit the childhood gallery with its large playroom, and listen to stories told by actors dressed in the costumes of a hundred years ago. They can also enjoy the popular games and wooden animals of that period.
Questions 1-7
Look at the six visitor attractions in southern England, A-F, in the text above.
For which visitor attraction are the following statements true?
Write the correct letter, A-F, in boxes 1-7 on your answer sheet.

NB You may use any letter more than once.

1. Visitors can look at animals from another part of the world.

2. People can hold a business conference in this place.

3. Visitors can find out what toys were used in the last century.

4. Activities are available all year round here.

5. You can buy light meals here.

6. Visitors can see how food was prepared in the past.

7. You can visit modern imitations of old buildings here.
________________
ALSO TRY:
1) IELTS 11 READING PASSAGE – THE SPOON-BILLED SANDPIPER ↗
2) IELTS 11 READING PASSAGE – ANNUAL PERFORMANCE APPRAISAL ↗
3) IELTS 11 READING PASSAGE – ORGANISING SUCCESSFUL BUSINESS CONFERENCE ↗
4) IELTS 11 READING PASSAGE – CITY PARK & RIDE ↗
5) IELTS 11 READING PASSAGE – SUMMER ACTIVITIES AT LONDON'S KEW GARDENS ↗
________________
Answers
Check out Visitor attractions in southern England reading answers below with explanations and locations given in the text.
1. E
2. B
3. F
4. B
5. A
6. C
7. A
Have any doubts??? Discuss in the comments ...